All important information in the Corona everyday life.
How many people are you allowed to meet with? Where do you have to wear a mask? Is school open tomorrow? Bringing information about the current situation together at a central point, creating a common point of contact for a wide variety of questions - that was our urgent wish and idea when we started the Corona Wegweiser on our own initiative in late summer. We realized that our news apps provide us with new information every day. But we lacked a central place where all our questions could be answered. A site where everything that is important to us can always be found in the same place.
So our goal was to develop the concept of a website where you can get the most important information about your hometown but also an overview of the issues that are moving in Germany or your state. How are the case numbers developing in Germany? What rules apply in Würzburg? What can I do if I think I am ill? We wanted to answer these important questions in a short and clear way. We wanted the same, recurring questions to always remain in the same place, so that people can quickly find their way around each day.
Because we think the topic is so important, we want to make our concept freely available to the public so that editorial offices and institutions can implement it as soon as possible. Because we want to make sure that such elementary news and messages do not frustrate, but motivate.
Note: The following contents contain the status 20.11.2020
Customizable: Select the appropriate places
The first thing you can do on the Corona Wegweiser is to select the places for which you want information, be it your hometown, the state or the whole of Germany. You can then compile your own menu items, which you can call up again and again. The menu then makes it easy to switch between the information of the places that interest you. Next to the locations are always the current incidence values, so that one gets a quick overview of the current situation.
The information is organized on the pages according to headings. Each section has an information field (a so-called tile), which can be easily filled with current information. The first section of the Corona Wegweiser is always the current case figures: "Figures that move us" is what we have called the tile. Here you can see in a clear form how the incidence values are changing and whether the Corona warning light is currently on yellow or red. With a colored strip on the side, the traffic light color is still visible when the tile is closed.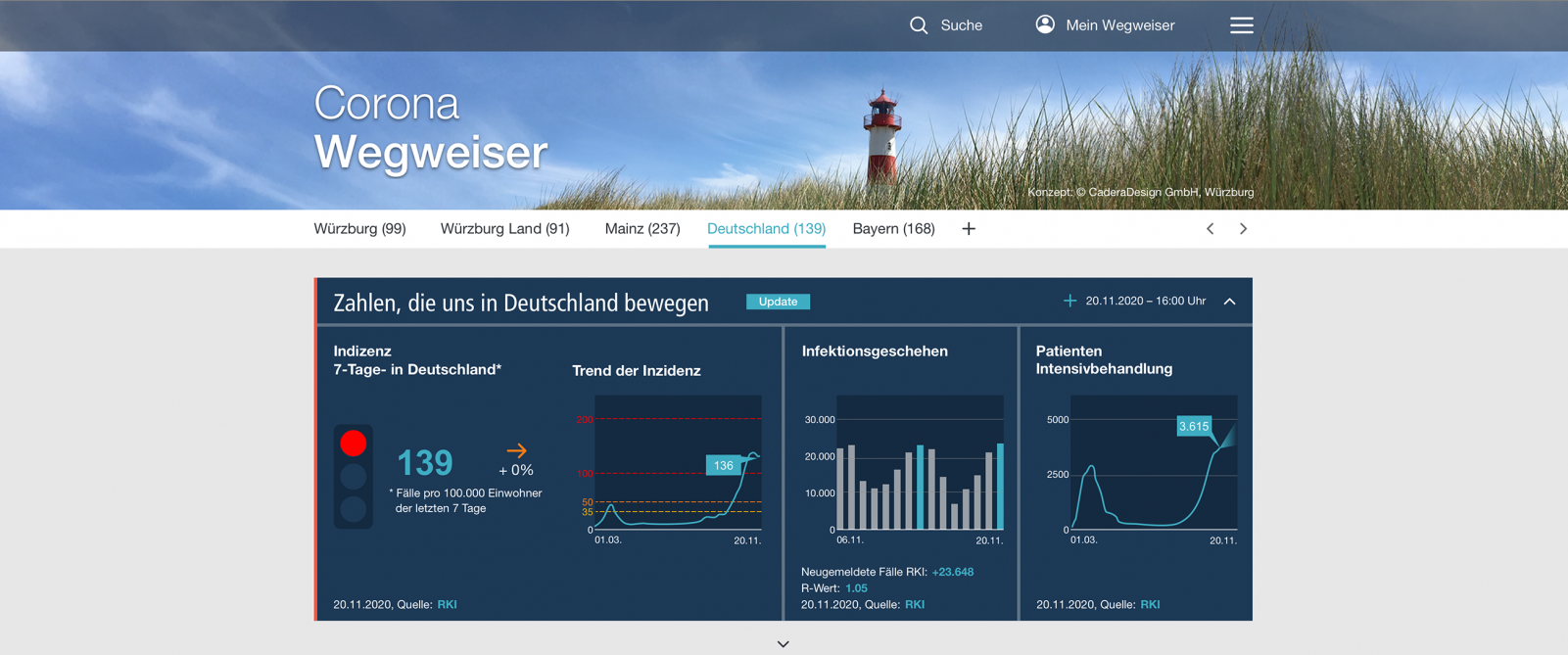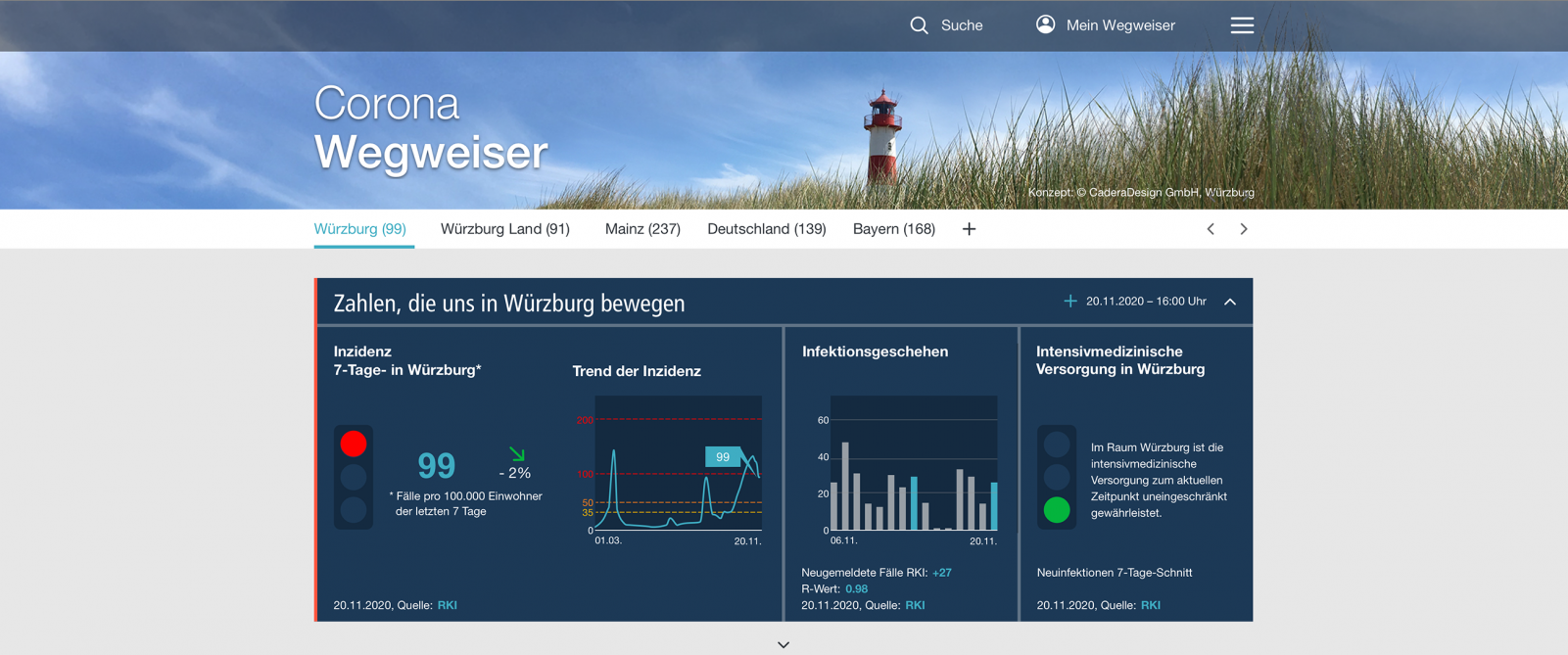 Extensible information and local rules
Our concept is that information can be expanded as needed. The tiles can be expanded if one wants more detailed information. This way, one can delve further into the topics if one wants to and still be able to find out everything important at first glance. According to the current case numbers, we have seen the local rules as an important point. Under the heading "What is there to consider in my region?" these should be clearly presented.
The section "News from my region" summarizes the local news and offers further links.
Motivation
We not only wanted to make everything much easier, but also to motivate. That's why, among other things, we thought of tiles that hold positive messages: "What we've achieved so far" or "How can I help".
Science
For all those who follow what new findings science has made, we have designed tiles that provide background information: "Findings from science" or "What science is currently working on" are the names we have given to the tiles.


Concept easily transferable
From the Johns Hopkins University dashboard to news portal info pages, county office pages, city pages - we had a lot of pages in our heads when we started Corona Wegweiser. "The starting point for this idea for me was the podcast "Corona Update" from NDR Info," says Tom Cadera, founder and CEO of CaderaDesign. "I thought that this valuable work should be visualized urgently. Finally, I found confirmation in the assessment of Prof. Christian Drosten, Institute Director for Virology at Berlin's Charité, who highlighted public information as a very important strategy against the virus."
It is of central importance to us that not only numbers and statistics are presented, but also scientific backgrounds and strategies. We want to design a neutral website with information, want to make our contribution. On the other hand, we also want to present that it is not a question of design, but a question of idea. That's why we decided to develop a neutral design that is easily transferable to different websites. Because our main goal is that, from now on, editors and web developers will continue with the project and adopt their concept.
We are looking for implementers for our concept!
Now we have already thought about the topic in detail and would now like to look for comrades-in-arms who realize our concept as quickly as possible, i.e. editorial offices, website operators, federal government, states, municipalities, institutes. In the next weeks and months we will certainly have an increased need for information. The upcoming vaccinations and future measures must be coordinated and communicated. All this could be presented on such a page in a transparent and motivating way.
We see our Corona Wegweiser as version 1.0 We make this first version freely available. We would like to continue to advise you on how to further optimize it in cooperation with editorial offices and institutions, how to set up a broader user research or how to incorporate our competences in information design. If you would like to implement the Corona Wegweiser, please contact us and cite us as a source. We are also available for a possible funding project, investor or crowd-funding initiatives, and try to realize the implementation with our network. It is important to us that the concept is implemented and does not remain just a concept.
Perhaps at some point we will be able to fill this dashboard with more positive news and, for example, prepare everything worth knowing about the upcoming federal election. But now we need to focus for a moment on what we can do to fight the pandemic and would like to invite to work with us on this project.
Pressrelease
For further information please contact:
Management
UX & Usability Engineering
User Interface Design
Industrial Design
cadera bei caderadesign punkt de