UX Design / HMI Design
We would like to show you what we think constitutes successful HMI design in the production environment and what you need to pay special attention to. Do you have any further questions?
A short overview of HMI Design
"HMI design should be tailored to operators and their environment. The HMI panel should be positioned ergonomically and the HMI user interface should be intuitive. HMI design should guide the operator's attention to ensure that tasks can be performed as easily, effectively, efficiently and satisfactorily as possible. To create a positive user experience, the user journey should furthermore be a constant throughout the entire process. "
Florian Fuchs, CaderaDesign
Control panels and other devices
The choice of suitable hardware is an important decision. How can the user interact with it, in what position and at what height can it be accessed? Should the operator be mobile or even have be able to work hands-free and what does this mean for the choice of devices? Do hardware buttons and emergency stop switches have to be integrated or are they integrated in the software? A number of questions need to be clarified in this context to ensure that operators and plant engineers are equally satisfied. After all, profitability or technological requirements also play a role.
A great benefit for the operator
To us, designing the interface between man and machine means coordinating it with the needs and skills of people. This includes questions of ergonomics as well as topics covered by cognition research or in psychology. Only relevant information is to be displayed to the user. Control elements should be designed to match their skills and objectives.
Good usability is not a coincidence
An HMI will be accepted by its users if its operation appears logical and transparent. Our work focuses on one goal: operating and understanding systems in an efficient, effective and satisfactory manner. We work pursuant to the current DIN EN ISO 9241 standards on the ergonomics of human-system interaction, i.e. according to the principles of dialogue design (DIN EN ISO 9241/110) or according to the process for designing usable interactive systems (DIN EN ISO 9241/210).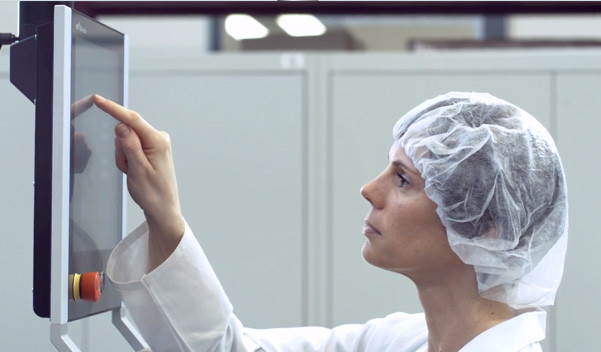 Interaction and User Experience
Well-designed interaction concepts offer users the added value of carrying out their work efficiently and of understanding the context of the processes intuitively. We attach great importance to developing an ideal navigation concept for each application, for instance. After all, navigation is the what guides user experience. Another important aspect is the visualisation of interactive elements and their states. This means that controls can be quickly identified and used. Interactions can also be supported with real-time visualisations and animations. This makes correlations particularly easy to understand.
Attentional Control
To facilitate an operator's work, it is essential to channel the operator's attention. In the production environment it is therefore important for us to clearly hierarchise error and fault messages and to present them in a suitable form and number. This clear identification can reduce the user's cognitive workload.
Modularity
Modularity is an important design principle in the design of products, graphics and software. A modular and systematic design (design patterns) enables a software application to be implemented quickly and in a resource-saving manner. An example from the design of graphical user interfaces and an innovation made by CaderaDesign are modular machine images. They reduce costs in the project planning of systems.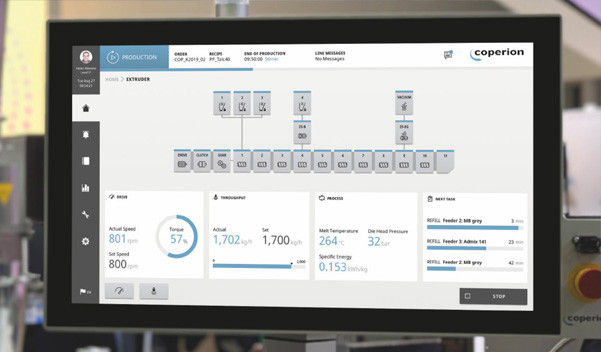 User management and login
For the operation of systems, the administration of users or user groups such as operator/factory worker/user, setter, administrator and service play a major role. The question as to how the login is to be carried out is also important: be it the traditional way using a password or via RFID chip cards, face recognition or fingerprint sensors. All of these questions need to be answered before usage scenarios and screens can be designed to meet the users' tasks and requirements.
Advantages of a successful HMI at a glance:
Increasing quality and attractiveness
Enhancing the image and increasing attractiveness
Generating enthusiasm and creating customer loyalty
Achieving effectiveness and efficiency in operation
Optimising processes and saving internal costs
Important HMI terms explained in brief
HMI
combination to control machines or devices. Actually, it is much more abstract and stands for a user interface or UI, as a mediator between humans and technology. HMIs are used as soon as a person wishes to interact with a technological system. Traditional examples of user interfaces are buttons, switches or display panels. When we talk about user interfaces or human machine interfaces today, the number of options for how these interfaces can be designed is much greater.
Graphical User Interfaces (GUIs)
In the past, machines were operated with hardware buttons (hard keys). Thanks to software technology, graphical user interfaces were added later. Graphical user interfaces visualise operating elements and allow flexible contents to be displayed. GUIs in mechanical engineering used to be operated first with soft keys and later with a trackpad and keyboard. Today, touch screens are also frequently used. The operation, setup and service of the system is usually performed via touch panels. Remote solutions also exist for setup or service, which are visualised on PC screens and operated via a mouse and keyboard. Mobile devices such as tablets and smartwatches are increasingly finding their way into production and are used for various tasks (see IIoT and shop floor). Applications for head-mounted displays, such as virtual reality (VR) or augmented reality glasses (AR), are designed for remote service or training scenarios.
User
Someone operating an HMI usually does it for a specific reason: The operator wants to benefit from it and complete work tasks. For this reason, the terms user or operator are often used synonymously.
Software ergonomics
Software ergonomics (usability engineering, a branch of human-computer interaction) is about designing software that is easy to understand and quick to use.
Interactions
To this day, suitable input methods for most human senses have been developed, from gesture tracking to voice and eye tracking based technologies. Some user interfaces integrate different interaction possibilities, such as touch-screen interactions and voice control on smartphones. The experience a user makes during an activity, the 'user experience' (UX), should be considered independently of any technology.
Your contact for questions about HMI design
UX & Usability Engineering
User Interface Design
fuchs bei caderadesign punkt de